The Tire Sealants Slime
27.11.2012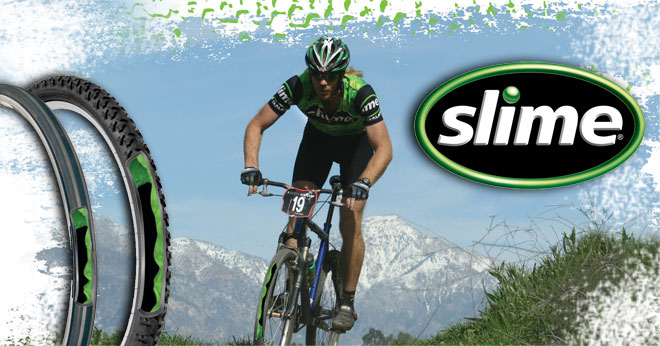 Since 1989, Slime has been committed to providing their customers with high quality, innovative tire care products. As the worldwide leader in tire care, they offer a complete line that gives customers the tools they need to care for their tires, save money, stay safe and have fun. Now widely distributed in over 80 countries, the Slime brand came from humble beginnings.
The first bottles of Slime sealant were blended by hand with a power drill and drywall blade in a garage on the Central Coast of California.
In such close proximity to mountain biking trails and sandy dunes perfect for off-roading, it didn't take long for the "green slimy stuff", as it was often referred to back then, to develop a following. The Slime name stuck—and twenty years later their sealants continue to be at the heart of their business. With their Slime green sealants still being their core product, their commitment to being green continues to go deeper than the brand color. They are dedicated to creating products that are safe for the user, the tire, and the environment—as solidified by Slime's Green Promise.
SLIME PRO - Ciclismo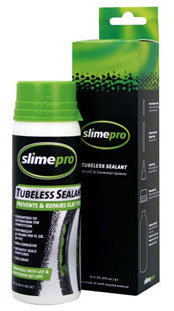 After extensively testing other tubeless sealant products and identifying key customer complaints, Slime gathered a team of racing professionals to create a superior tubeless sealant product. The result is Slimepro Tubeless Sealant, an advanced formula that outperforms the competition.
Slimepro Tubeless Sealant instantly seals punctures up to 1/8" and weighs in at just 1g per mL. This formula also contains our rust and corrosion package, a trademarked secret of our world class automotive tire sealants, designed to protect your expensive wheels from corrosion. As an added bonus, we replaced the standard toxic creepy chemical smell, signature of many tubeless sealants, with a tropical scent reminiscent of vacation days and piña coladas!
Ride like a pro. Ride with Slimepro Tubeless Sealant.
Specifically designed for use with tubeless bicycle tires
Guaranteed to outperform the competition
Instantly seals punctures up to 1/8" (3mm)
Lightweight
Compatible with UST and conversion systems
Non-corrosive & non-hazardous
Seals bead
Recommended quantity per tire:
Downhill – 3oz (90mL)
Cross country – 2oz (60mL)
Road – 1.5oz (45mL)
SMART TUBE - 29X - 26X - Slime LITE
All SLiME Smart Tubes are factory-filled with a precise volume of Slime Tube Sealant. Smart Tubes instantly seek out and seal punctures as they occur, preventing flats, repeatedly and continuously for up to two years. Ride without worries.
Per chi volesse avere oltre ad una riparazione ad alto livello contro la foratura e una leggerezza maggiore ecco che la casa statunitense ha creato il prodotto SLIME LITE in grado di soddisfare al massimo le prestazioni di chi vuole come fondamento base il peso..
If you really are looking for something light Slime has the lightest self-healing tubes on the planet instantly seal punctures up to 1/8″ (3mm). Slime Lite Tubes combine a lightweight butyl tube with revolutionary sealant technology to provide flat protection without adding significant weight. Go lite!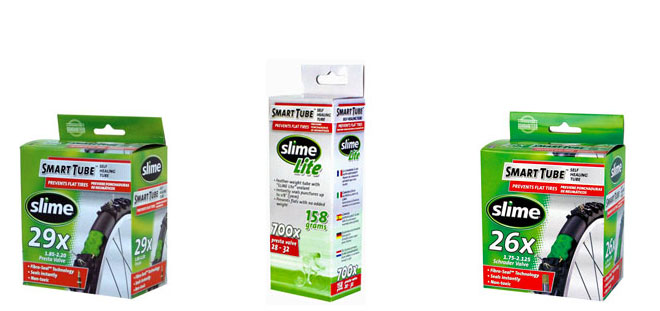 go back

0 products / cart
Booking Online