Freeride Skis Powderequipment
15.01.2013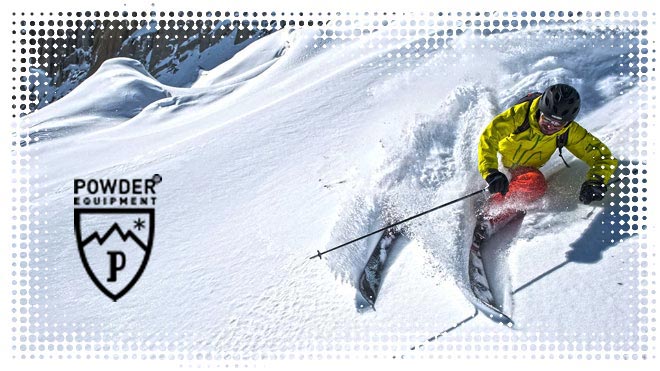 Highly specialised Freerideskis exceptional quality, extreme functionality, lightest construction through reduction and radical focus on the quintessential. The Powderequipment product portfolio 2012/2013 consists out of three highly specialized ski models. Type A, Type B and the new "Pioneer" big-mountain ski.
TYPE A
Products are highly versatile all-mountain products which are made for almost every challenge you might want to tackle. They are midsized for freeriding and touring use and combine excellent edge grip with very good riding characteristics in difficult conditions as well as powder snow. The all new 2012/2013 TYPE A ski is made for big undertakings in the high mountains, an extreme touring and free-riding ski. Due to its very light construction it is well suited for even the most extreme ascends and guarantees perfect handling and a lot of FUN going down again. Super-light Freeride- and touring ski with excellent riding characteristics in all snow conditions. The complex construction method and the premium materials used, lead to an extraordinary low weight. Type A is the right ski for very long ascends and extreme undertakings.
Length (cm)

Side cut (mm)
Radius (m)
Edge (cm)
Weight (Kg)
165
130/90/115
17
140
1,35
175
132/90/117
17
150
1,35
TYPE B
Products are pure functionality for the biggest mountains. They are real freeriding machines with legendary handling and a weight to length ratio, unmatched in its class. Within only four years, Type B Skis have become a benchmark product for versatile freeriding/touring skis in the market. The freeride ski! Still the reference for low weight and agile riding characteristics in its class. It has the biggest possible range of use, no matter whether it is off-piste or on-piste. The low weight and the optimized measurements make the ski also an exceptional good choice for the advanced ski mountaineer.
Length (cm)

Side cut (mm)
Radius (m)
Edge (cm)
Weight (Kg)
180
140/100/122
17
144
1,55
175
140/100/127
17
154
1,75
PIONEER
The all new 2012/2013 "Pioneer" is the widest ski in our range. It matches maximum buoyancy in powder snow with exceptional good riding characteristics on hard snow. The low weight and radical side-cut make the Pioneer the ultimate and agile big mountain ski for those who do not like to compromise. The 2013 Pioneer is the first Powderequipment model with the exclusive "Powderequipment Future-Camber", our radical new approach to camber in ski construction which again has the potential to set a new standard for the industry. Super buoyancy, extreme agility. The Pioneer is a radical combination of surface, long nose and side-cut. It is made for high speed/no compromise riding in any terrain. The Pioneer is the first serial model built with the Powderequipment Future CamberTM" – a radical combination of rocker (for early buoyancy and good riding in deep snow) with a traditional camber (for edge grip and aggressiveness on hard snow). Even though it is a wide ski, the Pioneer is therefore perfect for any condition. A new benchmark for uplift and agility.
Length (cm)

Side cut (mm)
Radius (m)
Edge (cm)
go back

0 products / cart
Booking Online